Disruption or Synergy? Fintech in 2019.
That's it, the first week of January is already behind us. We hope everybody enjoyed their holidays and wish the best for all of you for the coming year.
Disruption, Synergy, or both? What will 2019 bring Fintech? As usual we've kept up with developments in our industry and lately, we have seen tons of articles summing up the predictions for Fintech in 2019. We analysed, nearly, all and came up with this overview of top 6 predictions that were mentioned most and that we feel are indeed developments that will take place or will play an important role in 2019.


1. Regulatory Technology (RegTech)
2. Payments
3. IPOs and funding
4. Financial inclusion
5. Artificial intelligence (AI)
6. Combating fraud
1. RegTech
Regulation, a sensitive topic, has a significant impact on banking and the finance landscape. With the introduction of PSD2 and GDPR in 2018, banks must be regulatory compliant. The technology will improve and help the financial services firms to get better at dealing with regulatory challenges. Banks need to be ready and tested by March 2019.
The risk and consequences in case of non-compliance is high. Not only do banks face high fines, they are also at risk of losing their customers' trust. It is crucial for banks to be transparent and show the customers that they keep and handle their data correctly. Banks play, or should play, an essential role in connecting relevant financial players surrounding their clients and cooperate with other stakeholders, in this case the regulators, in order to avoid risks and to safeguard their customers' data.
2. Payments
Real-time payments remain high on the wish list, but unfortunately, based on the predictions, 2019 won't see real-time payments everywhere just yet. However, financial institutions and Fintech companies are moving quickly to create and implement technology in this space.
Customers expect to have a better, more efficient and seamless experience in their payments activities. Contactless payments will be big in 2019. Banks are improving the technology and will continue to make that experience simpler.
Amazon and Apple are continuing their push into payments industry forcing banks into action to retain customers. Also, big Chinese technology companies are making their move west with WeChat pay and Alipay slowly taking over. Recent news shows that Ant Financial is trying to buy WorldFirst, a UK-based money transfer company. So, will the Western banks work together with these Chinese companies or fight back?
3. IPOs and Funding
Will there be any Fintech companies going public in 2019? It looks like Fintech startups have been hesitant to enter the public markets this year. Many peer-to-peer (P2P) lending Fintechs saw valuations drop drastically in the public market. Many Fintech founder-CEOs have preferred to stay in the private market to avoid the burdens of public listings — however, Adyen, the Dutch payments Fintech, listed in June 2018 and has seen its share price double. So, anything is possible.
Aside from Fintech, some technology companies are going public. The ride-hailing companies, Lyft and Uber, and Airbnb are preparing to go public this year. Each at valuations in the tens of billions of dollars, buoyed by a decade of growth and fundraising.
Talking about funding. In 2019 the money will keep flowing, though a turn in the economy could change that dynamic. There is a lot of capital in the private sector right now - venture funds like Sequoia have risen up to compete with SoftBank. These funds will likely be deployed in the upcoming years, resulting in more funding and big valuation blow in 2019.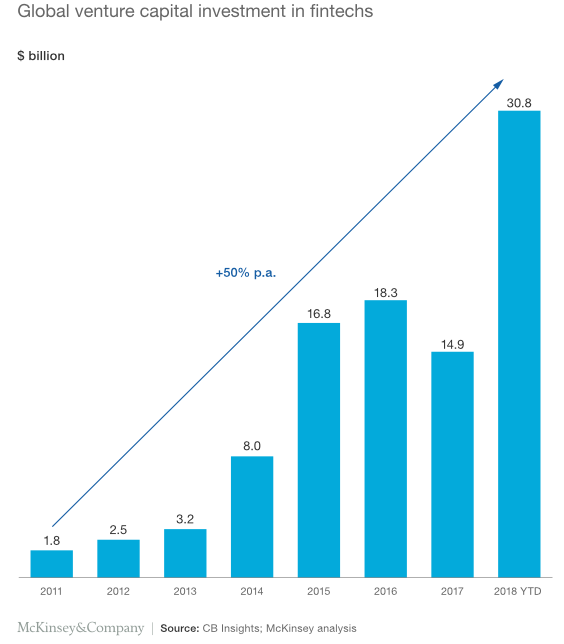 4. Financial Inclusion
Financial inclusion will be another important topic in 2019. Giving unbanked people access to financial products and services, such as a bank account, loans, and credit will be on many financial institutions agenda. The World Bank and the UN focus on how to bring the global population to the banking system.
According to Accenture's research, 56% of the unbanked population is in Asia.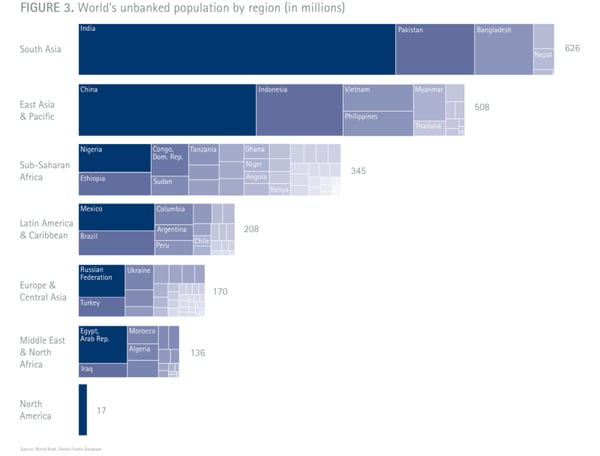 The developing nations would possibly see investments grow. Financial and technology players, such as Fidor, are actively expanding into these market.
5. Artificial Intelligence
One prediction that we see everywhere concerns AI. As Artificial Intelligence's development progresses, so will its influence on customer experience.
Over the last decade we have seen significant changes in the way people and banks interact. Whilst before, personal and face to face contact were the backbone of interactions, nowadays, online banking and banking apps are mainstream. In order to remain relevant in a digital age, banks will need cognitive computing to generate insights for the right mix of branches, digital and mobile offerings.
AI won't be a product as such, but it will play a crucial role in the background. These applications of AI will be driving and optimising the experience and relevance.
6. Combating Fraud
Banks and financial institutions are aware of the risk they encounter in case of data breaches. That is why we will see significant developments in authentication. The number of customers impacted by data breaches keeps growing. Banks will work more and more towards a situation in which their customer has full control over their own data and personal information.
New messaging tools for authorizing, or pre-authorizing transactions, as well as authentication tools for validating users based on login and engagements, will all provide additional hurdles for fraudsters to navigate. It remains crucial to keep implementing strong, modern, multi factor authentication and deploy multi-layered solutions that looks at threats holistically.
At the end, it all comes back to the bank's role as the safeguard of their customer's data.
Given these 6 predictions, 2019 promises to be an exciting year for all involved in Financial Services and Fintech. Banks will definitely need to step up their game if they want to keep their customers and the regulators happy. As for Fintechs, will they evolve further and go public?
Watch this space if you want to keep up to speed on the developments.
Sources: