Complex B2B sales in a digital era
Everyone is suffering at the moment, but the situation is particularly difficult for sales teams who are unable to tap into their usual sources of leads. It is up to marketing teams to help out their colleagues by giving them entry to sales opportunities.
Pre-Covid, B2B sales teams would spend as much time as possible in front of potential clients. These interactions (sometimes planned, sometimes accidental) were a crucial source of intelligence on planned projects, purchasing intentions and the most important elements of the decision making process for complex products and services.
With distancing restrictions set to be in place for some time to come, sales teams need something to replace this insight, another way of finding out what clients are doing and planning to do when they cannot meet face to face or have a spontaneous conversation. In this context, marketing teams should start using their intelligence to help sales identify potential new clients and get them in front of the right people.
Breaking down the barriers
The onus is on marketing teams to not just help their sales colleagues to identify potential new clients, but also to get them in front of the right people. It doesn't take a genius to figure out that when the new business pipeline dries up, revenues fall and sustainability is threatened.
In his seminal book on marketing disruptive products (Crossing the Chasm), Geoffrey Moore looked at how to bridge the gap between early adopters and the early majority. Here we will explain how to cross the chasm between marketing and sales.
We know from experience that marketing and sales teams tend to operate in isolation. When we speak to sales teams they often tell us that they receive irrelevant leads because their marketing department doesn't understand what they sell, who they are selling to and why those clients might be interested in their product or service. They also complain that marketing campaigns are too generic.
Sales are from Venus, marketing are from Mars?
On the other side (and we mean this literally because sales and marketing departments are usually separated physically as well as philosophically), marketing teams tell us that their sales colleagues waste the leads they are provided with and that they don't value marketing activity.
The most pertinent comments we hear from marketing departments are that:
'We never get involved in any client situation'
'Branding/positioning is a major contributor to revenue' and we feel comfortable spending our time there
'My impact is very hard to measure'
This final point sums up the difference between the two groups – sales teams are looking for entry, whereas marketing teams are focused on impact. Many marketing teams are operating in a branding 'comfort zone', fixated with metrics such as page views rather than revenue.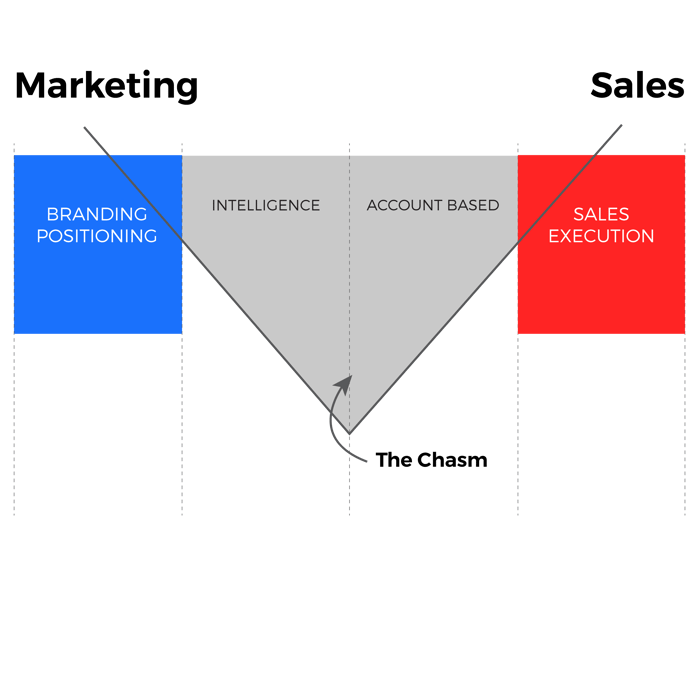 This is not to say branding is not important. Having a strong brand is vital because it gives you your unique identity and your position in the market. But it cannot be the sole function of the marketing team – they need to give sales what they want, which is entry into a potential sales opportunity, an account or an individual.
Give sales a chance
Neither is it the case that every fintech's marketing department is divorced from commercial reality. However, we see across start-ups, medium sized and even larger companies that are selling into the financial services sector that sales teams are turning over every stone to find leads, but are often not getting in front of the people who are actually interested in their proposition.
Don't just take our word for it. A survey of 175 commercial organisations and almost 23,000 sales reps conducted by McKinsey found that the most successful providers were more likely to enable sales through marketing and make greater use of tools and information systems.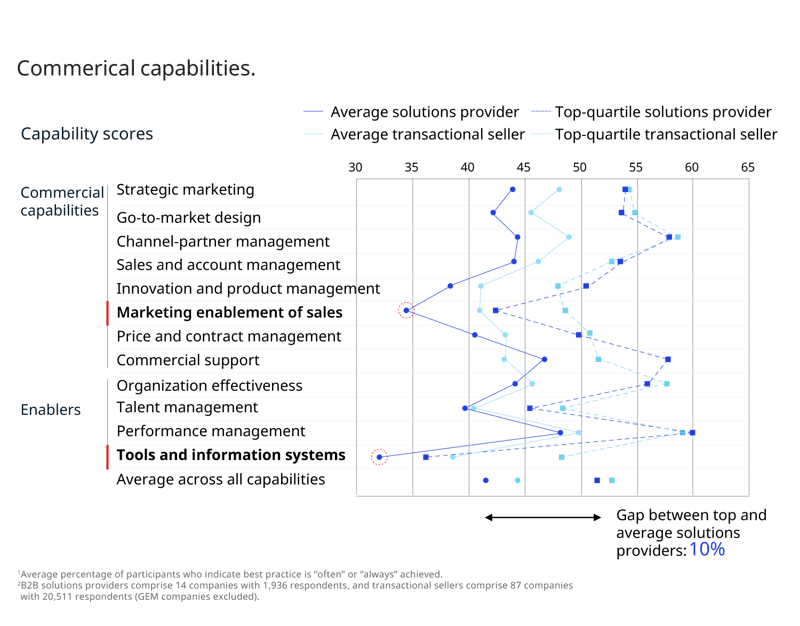 Successfully bridging the gap between sales and marketing is about creating a correlation between marketing activities and people that want to buy your solution. The answer lies in building a marketing and sales team that uses intelligence and tools to identify the right prospects - and people - to build and execute account-based strategies.

No more 'never the twain shall meet'
Sales and marketing need to sit down together and determine the target clients and buyer personas. The initiative for this should come from marketing, which also can provide valuable input on the account-based plan to win a new client. Entry to new clients should be the common goal.
Marketing and sales need to have a common understanding of the problem they are fixing for the customer. Marketing can then translate this into lead generation campaigns and sales enablement programmes while the sales team help select the target accounts, give input to marketing on campaigns and do the follow up.
In 2006, Harvard Business Review published an article entitled Ending the War Between Sales and Marketing in which it suggested that when sales and marketing are fully integrated, marketing begins to focus on strategic, forward thinking tasks and becomes embedded in the management of key accounts.
It found that in successful companies, marketing helped sales create common standards for leads and opportunities, develop value propositions, and advise on planning and pricing.
One of the effects of coronavirus has been that closer collaboration between marketing and sales is no longer a 'nice to have' – it is absolutely crucial to commercial success and even the viability of your business in these especially challenging times.
The good news is that marketing teams already have the skills and resources to help their sales colleagues generate the revenue that will enable companies to weather the coronavirus storm and emerge on the other side with a more integrated and efficient approach to lead generation.